Outsource Your Accounting to Us!
For businesses, we can serve as your "Virtual CFO", helping you to understand your numbers, manage your business and provide the tools you need to make informed decisions.
We service individuals as well with a complete range of tax preparation and advisory services. With small businesses, buisness and personal taxes are often inextricably linked. We can help at KAECPA.
Taxation
A full range of tax planning for Business & Personal taxes. We will help you to decipher the complexities of tax law.
Sales and Use Tax
States are aggressive with collections. We can help you to navigate rapidly changing environments and demystify online sales.
Reporting
You can count on KAECPA to provide you with measurable, timely reports you can use to run your business more effectively.
KAECPA has a strong track record in taking complex data and numbers and compiling that information into simple, easy to understand forms and documents that are accessible and, more importantly, exceedingly useful to a CEO or business owner. Our goal is to provide the information you need in a manner that can be quickly assimilated and acted on. Information that will allow you to focus on the activities that will improve your bottom line profitability – the activities that are your core competency. KAECPA can allow you to take all the accounting, reporting, taxation and payroll issues that may be taking much of yours and your employees time off of your plate, allowing for increased productivity, increased job satisfaction and increased profitability.
Contact KAECPA today and let's get started!
Corporate and Individual Accounting Services
Outsourced Accounting
KAECPA can assume the vast majority of accounting tasks that you currently may be handling in-house.
Tax Planning
We will work with you to develop a plan to minimize your tax exposure, improve your balance sheet, and maximize your cash flow.
Strategic Planning
We will work with you and your banker, lawyer, insurance agent, and other advisors to solve your business problems.
Resources & Forms
Useful Resources for Financial Management & Forecasting
All transcript types are available online.
View, print or download your transcript.
Username and password to return later.
You'll need your Social security number or ITIN.
Your filing status.
Your exact refund amount.  
Register Your Business Account with the Department of Revenue Online Through Georgia Tax Center.
Georgia Department of Revenue Power of Attorney and Declaration of Representative. (Form RD-1061)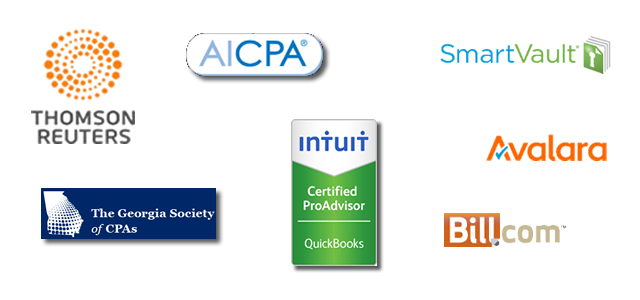 Contact Us
Thanks for viewing our website. We look forward to hearing from you. We can be reached using the info below, or you can submit the request form to schedule a consultation.
400 Galleria Parkway Suite 1500 Atlanta, GA 30339
M-F: 8am-5pm, S-S: Closed